ABOUT THE DEPARTMENT
The Department enrolled its first batch in BA Pass course, in the year 2006, established itself academically under Himachal Pradesh University, Shimla. The Department is in a continuous process of growth with Podium, Maps, Models, Charts and Equipments established with the help of Infrastructure Grant received under RUSA.
COURSES OFFERED:
At present, our college offer B.A. in Geography under Choice Based Credit System (CBCS) as per the UGC guidelines comprising Core, DSC/DSE, Skill Enhancement and Generic/Inter-disciplinary courses enabling students with specialized, advanced, supportive to the subject of study alongwith an exposure to some other discipline/subject/domain thereby nurturing the student's proficiency/skill.
Year
DSC-I A
DSC-I B
SEC
B.A. 1st Year
Physical Geography
General Cartography
B.A. 2nd Year
Human Geography
Environmental Geography
Regional Planning and Development

Remote Sensing and GPS
DSE-Discipline Specific Core Course, SEC-Skill Enhancement Course:
| Year/Semester | DSE | SEC | GE |
| --- | --- | --- | --- |
| B.A. 3rd Year (5th Semester) | Geography of India | Geographic Information System | Disaster Risk Reduction |
| B.A. 3rd Year (6th Semester) | Disaster Management | Field Techniques and Survey based Project Report | Sustainable Development |
DSE-Discipline Specific Elective, SEC-Skill Enhancement Course, GE-Generic Elective:
| PROGRAMME OFFERED | DURATION | SEATS | ACADEMIC QUALIFICATION | MODE OF ADMISSION |
| --- | --- | --- | --- | --- |
| B.A. | 3 Years/06 Semester | 80 | 10+2 | Merit Basis |
FACULTY
Name of the Faculty
Qualification
Professional Experience
Designation
Dr. Ved Prakash
Email: vtp754@gmail.com
M.Sc., M.Ed., M. Phil., Ph.D., UGC-SLET
10 Years
Assistant Professor
Mr. Devender Kumar
Email: devendergeo@gmail.com
M.A. UGC-NET
8 Years
Assistant Professor
Departmental Activities:
Field Survey by Students of 6th Semester (21st Feb. to 24th Feb. 2019)
15 (Fifteen) students of B.A. 6th Semester have done socio-economic survey of Gram Panchayat Andheri, Teh. Sangrah, Dist. Sirmour (H.P.)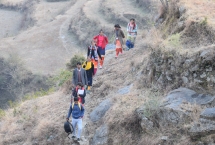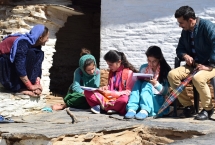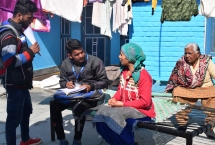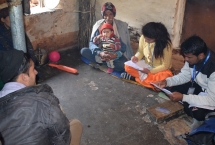 SPACE EXHIBITION IIRS-ISRO DEHRADUN on dated 20-11-2018
Mr. Devender Kumar (Asst. Prof. in Geography) along with 14 (Fourteen) students which include Seven from B.A. 5th Semester and Seven from B.A. 3rd Semester.